Advertisement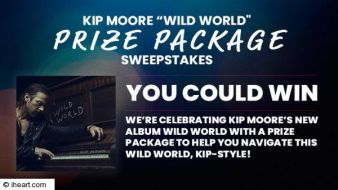 CMT Cody is celebrating Kip Moore's new album Wild World with a prize package to help you navigate this wild world, Kip-style!
Sign up now to WIN over $700 in prizes that include an autographed guitar by Kip Moore.
Hurry! New submissions valid DAILY 6/1 - 6/7 only.
Go now to learn more and make sure to return again tomorrow.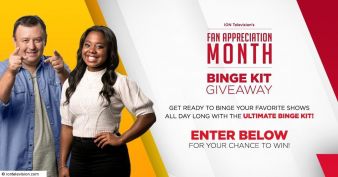 Get ready for some fun while your binge watch your favorite shows all day long with the Ultimate Binge Kit.
This is your chance to be 1 of 150 winners to receive an ION Television Binge Kit that includes a variety of branded ION items.
Each prize pack is valued at over $80 for a total of over $12,000 in prizes.
New submissions valid DAILY all month long.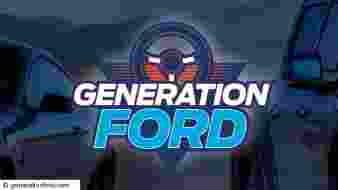 Sign up now during the Generation Ford Sweepstakes for your chance to WIN the Ultimate Track Experience with Ford's Next Generation of Racers.
This is your chance at winning a day with the Generation Ford developmental drivers putting Ford vehicles to the test on terrains they are built for.
TWO Grand prize winners will receive airfare for two, hotel accommodations, spending cash and a Ford Performance Apparel Package.
Plus, winners will be selected throughout the campaign with an autographed item every time one of the participating drivers has a top five finish.
Sign up now to qualify before 9/30/2020.

Started: Fri May 1, 2020
Ends: Sun Jul 5, 2020
Prize: Event Travel
Awesome!
Get ready for some fun with Cupcake Vineyards as they give away a trip for two to the biggest music festival of the year.
Enter now to WIN a trip to the Lollapalooza Festival in Chicago, IL from July 29th through August 3rd.
Winner receives airfare, hotel for five nights PLUS two tickets to all four days of the festival.
Enter through July 5th and watch for winning announcement the next day.
You can also text the word "Lolla" to 41996 and follow the prompts to qualify.
Standard data/messaging rates may apply.

This is your chance to fish with Hank Cherry and win a Bass Cat Sabre FTD bass boat and more.
Sign up now to WIN a trip that includes round-trip flights, hotel accommodations, rental car and spending cash, a new bass fishing boat and a fishing prize package.
This prize pack retails for over $52,000!
New submissions valid DAILY through 8/31/2020.

This is your chance to WIN a Universal Parks & Resorts Trip to Hollywood or Orlando for the chance to experience all the fun the Minions bring.
Enter now and you could WIN the grand prize getaway or Instantly Win another prize.
The Instant Win Prizes include Home Movie Theater prize packages, lunch bags, waffle makers, Back to School Essentials and more.
Enter the sweepstakes now and get ready to live out the best Minion life at the Universal Parks & Resorts of your choice.

Are you ready for the 2020 MLB World Series Game?
Enter now to WIN 4 tickets to the game with round-trip air transportation and hotel and lodging for a total of four people.
Complete your entry to qualify now before October 1st of 2020.
Winner selected in a random drawing.

Started: Thu May 14, 2020
Ends: Sun Nov 1, 2020
Prize: Cash
Instant WinAwesome!
Choose your #ChewTunes and you could win a trip to the GRAMMYS®, a $10,000 CASH PRIZE or Instantly Win an awesome prize.
Every flavor has it's own beat so be sure to play them all and vote for your favorite to receive an entry into the grand prize drawing.
You could also Instantly Win prizes including a Bluetooth Stereo Turntable and Trident product, $30 streaming music gift card and more.
Play to win DAILY through 11/1/2020.

What does it take to be a hero? Sparkling Ice wants to know!
They are on the lookout for everyday heroes, because they know that not all heroes wear capes.
Whether it's a nurse, veteran, mail person or your 80-year-old neighbor, there are many unsung heroes around us today.
Nominate your hero for the chance to WIN $10,000 to honor their service and receive a $500 cash prize.
Nominee's will receive a trip for the Finalist to Seattle, WA for a sponsor video shoot to help determine the winning nomination.
One hundred additional winners will receive $50 Visa Virtual prepaid cards.
Who is your hero? Nominate them now!

This is your chance to WIN a Fan Flyaway Experience of a Lifetime from U.S. Cellular!
Sign up now and you could WIN a trip to serve as a Honorary Stater for the U.S. Cellular 250 race on August 1st at Iowa Speedway in Newton, IA.
The honorary starter will wave the green flat to start the race!
Trip includes round-trip flights for winner and guest, two nights of hotel accommodations, $200 in spending cash and more.
Sign up now to qualify and be sure to return again tomorrow for another chance to win.