Advertisement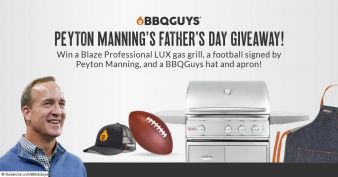 Started: Mon Jun 1, 2020
Ends: Mon Jun 22, 2020

Prize: Food and Drink
Awesome!
This is your chance to give dad the prize he really wants during the Father's Day Giveaway from BBQGuys.
Sign up now to WIN a $2,000 Ironwood 885 Grilling Package.
This package includes a Traeger Ironwood 885 Pellet Grill with cover, folding front shelf, Traeger 20 L.B. Natural Hardwood Pellets and more.
Fil out the form now to win this amazing $2,000 prize package.
Promotion ends 6/22/2020.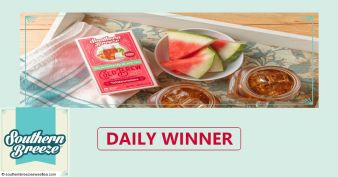 Started: Mon Jun 1, 2020
Ends: Tue Jun 30, 2020
Prize: Food and Drink
Daily Winner!
Happy National Iced Tea Month!
Southern Breeze Sweet Tea is celebrating all month long by giving away boxes of their zero calorie, cold brew and glass mason jars to some lucky winners.
Sign up now for your chance to be 1 of 30 winners during the month of June.
Each winner will receive one box of Watermelon Cold Brew and a glass mason jar.
Refer a friend for 1 BONUS entry!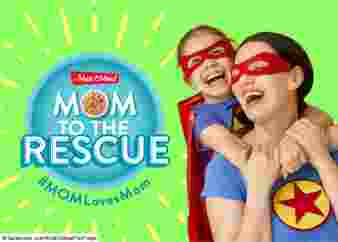 Started: Wed May 27, 2020
Ends: Thu Jun 25, 2020

Prize: Food and Drink
Awesome!
It's #MomToTheRescue!
Malt-O-Meal is the champion of moms and they want to honor all of the important and extra work moms across the country are doing right now by giving away $30,000 worth of personalized gifts to moms everywhere!
Submit your nomination now to WIN two $500 gift cards and Malt-O-Meal cereal for each winner's pantry.
Up to SIXTY Winners will be slected.
It's Mom to the Rescue!

Started: Mon Jun 1, 2020
Ends: Sun Aug 2, 2020

Prize: Food and Drink
Awesome!
Sign up now with Easy Home Meals for your chance to WIN Ice Cream and Novelties for an entire year!
THREE Grand prize winners will receive manufacturer coupons for a year of ice cream valued at over $300.
Plus, ten more winners will receive $60 in manufacturer coupons for free ice cream.
Over $1,600 in prizes awarded total!
Enter to win up to ten times through August 2nd of 2020.

It's a Nostalgia Giveaway!
Subscribe now to their newsletter and follow on social media for your chance to WIN a Nostalgia Snow Cone Maker & Snow Cone Party Kit.
Hurry! Promotion ends 6/5 at 12 PM CST and the winners will be chosen from all eligible entrants the next day.
Don't forget to share with friends!

This is your chance to WIN 1 of 3 awesome prizes during the Father's Day Giveaway from John Soules Foods.
The grand prize winner receives a Traeger Pellet Grill.
Other prizes include $100 Visa® Gift Cards or a Medium Green Egg Grill with handler.
Over 25 winners will be selected.

Why is your Pops Tops?
Tell BomgaarsSupply why for your chance to WIN a 7-Tool Combo Kit with box to give to your pop this Father's Day.
There are 7 different prizes available to be won with over 35 winners selected.
Enter now and start sharing with friends for additional entries!

Just in time for Fathers Day the winner receives heavy-duty leather mitts to remove hot grills, pots, etc. from the barbecue or oven.
Enter now to WIN a gift box filled with treats for anyone who likes to fire up the BBQ.
The prizes include a great grill brush, three premium bottles of wood chips for barbecue smokers, Apple, Mesquite, and Hickory, a bottle of our Smoked Hickory Barbecue Sauce, and the flavorful Steak Spice.
Enter to win by 6/5/2020.

Farm Star Living is saying Cheers to Cherries form Starr Ranch Growers that are Now In Season.
Sign up now to WIN a $500 gift card from Starr Ranch Growers to purchase all the freshest cherries and get ready to say Cheers.
One lucky winner will be selected in a random drawing at the beginning of the next month.
Submit new entries to win DAILY throughout the month.

Murdick's Fudge is celebrating 40 years of business with a Summer Giveaway.
Sign up now to WIN a Murdick's Lighthouse Combo Box valued at over $50.
Promotion valid all month long.