∗ You just missed it! Check these similar sweepstakes for more chances to win!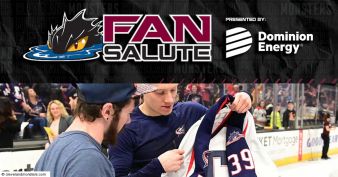 Login
to keep track of your entries.
15 WINNERS!
Submit the form now with the Cleveland Monsters for your chance to WIN a game-worn Cleveland Monsters jersey.
Three winners will be chosen daily throughout the campaign.
New submissions valid every week.
Advertisement
Eligibility and Prize Information
ELIGIBILITY: Entrants must be at least 18 years of age at the time of entry. The Sweepstakes is open to legal residents of the 50 United States (including the District of Columbia). Owners, directors, officers, and employees (and their parents, siblings, spouses, and children) of CHH, its parents, affiliates, and subsidiaries, and their respective advertising and promotional agencies for the Sweepstakes, and Rascal House USA, Inc. are not eligible to participate in the Sweepstakes.
FIFTEEN WINNERS: One Monsters game-worn jersey.
ARV of the Prize: $250
Subject to the terms and conditions set forth herein, there will be fifteen Prize winners (each, a "Winner" and collectively, the "Winners") randomly selected from among all qualifying Entrants on or about May 25, 2020.
For Full Official Rules, Click here.
No Comments Found!
Jumpstart the conversation by leaving your comments.