∗ You just missed it! Check these similar sweepstakes for more chances to win!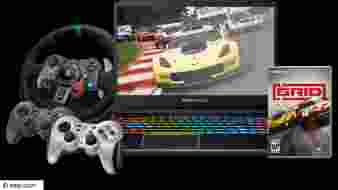 Login
to keep track of your entries.
In celebration of GRID season 3, INTEL is giving away the Ultimate Gaming Bundle.
Sign up now to WIN a prize bundle that features intense moment-to-moment racing action made possible by Intel processors.
The prize includes a copy of GRID, a brand new Intel® Core™ i7 powered Predator Helios 300 gaming laptop, a Logitech G29 steering wheel and a pair of Logitech gaming pads (F710 and F310).
Submit your entry today and make sure to return again tomorrow for another chance to qualify through May 27th of 2020.
Advertisement
Eligibility and Prize Information
ELIGIBILITY: Open to legal residents of the 50 United States and the District of Columbia, United Kingdom and Germany, who are at 18 years of age or the age of majority in their respective states/jurisdictions of permanent residence, whichever is greater as of date of entry.
GRAND PRIZE: United States Grand Prize: PC (Predator Helios 300 [PH315-52-710B] – Intel® Core™ i7-9750H, Nvidia Geforce GTX 1660Ti, 16GB DDR4, 512GB SSD)+Logitech Steering Wheel (g29)+pair of Logitech Game Pads (F710 + F310), and a license code for Codemasters GRID.
ARV: $1,750USD
On or about June 10, 2020 one potential Grand Prize Winner per Eligible Country (three total) will be selected in a random drawing from among all eligible Entries from each Eligible Country received during the Sweepstakes Period. The random drawings will be conducted by the Administrator; an independent judging organization whose decisions are final on all matters relating to the drawing. The odds of winning are based on the number of eligible Entries received throughout the Sweepstakes Period.
For Full Official Rules, Click here.
No Comments Found!
Jumpstart the conversation by leaving your comments.